QMOD-HDMI RGB HDTV Modulator-IPTV Encoder
More about RF Modulators
Modulation in its most basic definition is the mixing of two sinusoidal signals. The RF modulator takes an input signal and outputs a modulated signal to be transmitted as a video channel to any number of connected TVs. RF Modulators are used to distribute video in widely diverse installations, including stadiums, arenas, office buildings, college campuses, houses of worship, sports bars, and restaurants
About QMOD-HDMI RGB HDTV Modulator-IPTV Encoder
The dual-channel QMOD-HDMI RGB, with one HDMI and one RGBHV/Component input, sets a new standard for sports, motion and digital signage encoding.
Related Equipment & Software
Accessories
Contemporary Research offers a variety of product accessories to necessitate or enhance the functionality of AV products.
Software Tools
Free software tools that allow users to maintain, monitor, and update many of their CR products.
Full Description & Specifications
The QMOD-HDMI RGB is a professional dual-channel frequency-agile RF Modulator / Encoder for distributing HD video content over CATV systems to an unlimited number of televisions or standalone HDTV Tuners. The unit is ideal for distributing live video from satellite receivers or cable boxes, or digital signage content from media players or PCs. Dual-channel operation is standard, creating two virtual programs on one physical RF channel. Encoding can be MPEG-2 or H.264. The latest generation now has an adjustable RF output level up to 45 dBmV.
Dual hardware scalers accept content up to 1080p and compensate for non-broadcast and PAL frame rates. The QMOD-HDMI RGB can simultaneously output the content as a Multicast or Unicast IPTV stream. Options include easy front-panel setup, dual-language SAP audio, and Emergency Alert System. Dual unit rack mounting offers up to four programs per rack unit, with the ability to mix models to handle HDMI, SDI, Component, RGBHV and NTSC video sources.
One HDMI Input (Type A, Version 1.3) and one RGBHV/Component Input (HD15), each accept 480i/29.97Hz to 1080p 59.94/60Hz video and common PC resolutions
Dual hardware scalers for resolution and frame rate conversion to standard HDTV formats
Adjustable size and position enable precise formatting for edge-to-edge presentation
Two Composite/CC video inputs for encoding, captioning, or EAS use
Accepts embedded HDMI AC-3 and PCM audio
Two analog stereo and two SPDIF coaxial audio inputs
MPEG-2 or H.264 encoding selectable individually for each program
MPEG-2 output resolutions – 480i, 480p, 576i, 720p, 1080i, or auto
H.264 output resolutions – 480i, 480p, 576i, 720p,1080i, or auto; 1080p from a 1080p source
Accepts analog stereo or PCM audio and encodes to AC-3 with SAP dual-language capability
Supports AC-3 passthrough
Embeds captioning from Line 21 data on composite video inputs
Delivers fully agile QAM 64/256 digital cable channels 2-135 or 8VSB off-air channels 2-69
Adjustable output level from 19-45 dBmV in 1dB steps
Up to 268 HD Programs, 134 Channels per system
Streams Multicast or Unicast IPTV from GigE Ethernet port
Rack-mountable two across in 1RU
Configuration and monitoring via front-panel or onboard Web pages
Meets RoHS and California energy-saving standards
---
Distribution:
AV over RF , AV over IP , Hybrid Systems
---
Video:
HDMI receptacle, Type A, Version 1.3
HD15 RGBHV/Component video input
Two RCA Composite video/CC inputs
---
Audio:
Two RCA SPDIF coaxial inputs
Two analog stereo 3.5mm TRS inputs
---
Encoding:
H.264 or MPEG-2 Profile: MP@HL for HD, MP@ML for SD, 1080i, 720p, 576i, 480p, and 480i output resolution
MPEG-2 Video Encoding bit rate 8-20 Mbps (1080i,720p); 6-16 Mbps (1080p); 4-8 Mbps (575i,480i)
H.264 Video Encoding bit rate 5-10 Mbps (1080i,720p); 7.5-15 Mbps (1080p); 3-8 Mbps (480p);
Variable bit rate if set for IP output only
PCM or MPEG-1, Layer 2 audio encoded as AC-3
SAP Dual-language capability, second audio track encoded as MPEG-1, Layer 2
Dual-channel operation, two programs in MPEG-2 or H.264 Transport Stream for QAM or IPTV output
IPTV configurable as MPTS and SPTS, UDP or RTP
---
Modulation:
Switchable 64/256 QAM, J83 Annex B, Interleaving Modes (128,1), MER 38 dB typical
8VSB off-air channels
---
Front Panel:
LCD Text display, white text on blue background
Setup and Select buttons
Up, Down, Left, and Right navigation buttons
Mini USB-B port virtual network adapter for Web page access and firmware updates
---
Ethernet:
RJ-45 GigE Ethernet Connector for Web page access and firmware updates
---
EAS:
Mini phoenix connector for contact closure or logic input to recall emergency alert video source
---
Standards:
FCC Class B, ROHS, meets California standards
---
Power:
2.1mm coaxial jack (inside center conductor positive), 1.5A maximum, 11.5 to 13.5 VDC, 12 VDC typical
---
Includes:
5403-001, PS12-2 Power Supply
5061-007, 3.5mm to RCA Audio Cable
5061-008, RCA to VGA Cable
5008-025, Universal Rack Mount Kit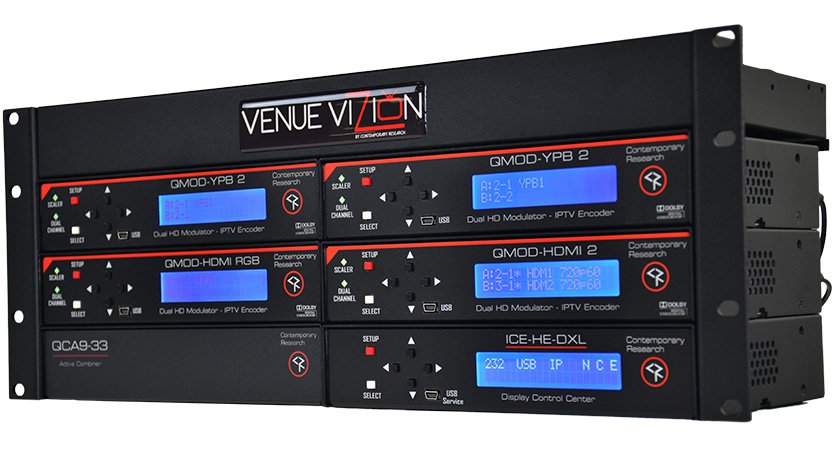 Venue Vizion
Venue Vizion is a cost-effective, easily expandable AV distribution solution that gives users control of each TV's channel, volume, and power.