What is AV over IP?
AV over IP offers the ability to deliver high definition video over data networks with superior quality for video and data.
Contemporary Research provides cost-effective end-to-end IPTV video distribution and control solutions made for integration in venues such as corporations, houses of worship, K-12 schools, colleges, stadiums and arenas, bars, and restaurants.
System Design Considerations
Key design considerations include:
Existing cabling infrastructure
Number of locations and screens
Distances involved
Expansion plans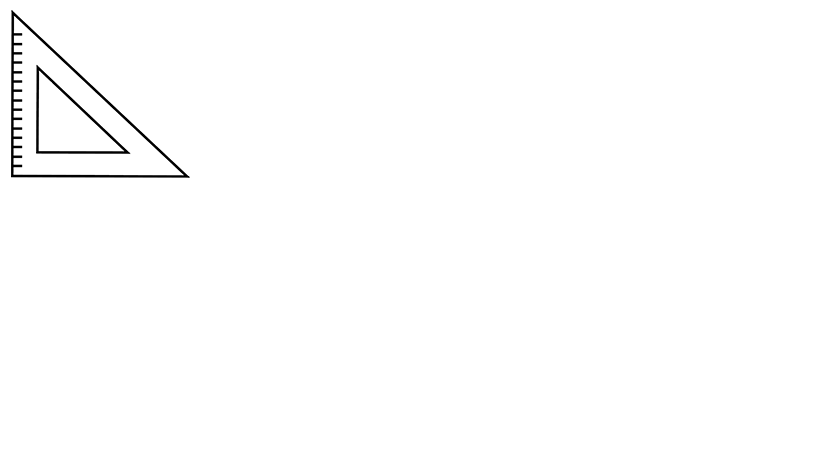 Advantages of IP Video Distribution
Limitless scalability – IP networks can be expanded quickly by adding switches without disrupting existing switches.
Advanced video compression – Video compression codecs such as H.264 (also called AVC for Advanced Video Coding) make it possible to transport massive files that deliver high definition video.
Affordability – IP uses standard Cat 5 or Cat 6 network cabling. For new installations, IP solutions can be up to 30 percent less expensive to purchase and install than traditional AV distribution systems.
Reliability – IP is modular, which localizes any system failures, making them easier to locate and resolve.
AV Over IP Solutions
The flexibility of Internet Protocol Networks has made "everything over IP and IP over everything" not only a catch phrase, but a clear objective for many network designers and integrators.
Contemporary Research offers a full range of IPTV encoders that compress data for distribution over IP networks and decoder/controllers that process it for play on screens throughout enterprises of all sizes. Our Display Express Control System allows users to control power, volume, and channel selection from any device with a web browser.
Download the Solutions Guide
IPTV Encoders
Contemporary Research IPTV encoders feature dual-channel encoders that create MPEG-2 or H.264 IPTV streams from two separate video sources. They offer low latency, accept video resolutions from 480i to 1080p and common PC graphics resolutions, and support closed captioning.
AV over IP encoder output resolutions can be changed between 480i and 1080p using the built-in scalers. IPTV encoders also accept audio from embedded SDI or HDMI, SPDIF, or analog stereo and can encode AC-3, MPEG-1 Layer 2, or AAC.
QIP-SDI HDMI IPTV Encoder
The dual-program QIP-SDI HDMI, with one SDI and one HDMI input, sets a new standard for sports, motion and digital signage encoding.
QIP-SDI 2 IPTV Encoder
The dual-program QIP-SDI 2, with two SDI inputs, sets a new standard for sports, motion and digital signage encoding.
QIP-YPB 2 IPTV Encoder
The QIP-YPB 2 IPTV Encoder features dual-channel encoders that create MPEG-2 or H.264 IPTV streams from two separate video sources.
IPTV Decoder/Controllers
CR IPTV decoder/controllers provide integration-friendly IPTV decoding with incorporated display control. The decoders are compatible with unicast or multicast UDP and RTP MPEG-TS IPTV streams and will accept MPEG-2 or H.264 single program or multiple program transport streams.
Administrators upload channel programs lists from a PC using our CR Toolbox software. Channel selection, volume, and power may be controlled from the front panel controls, handheld IR remote, or external control system.
IP-SDI 4i IPTV Decoder
The IP-SDI 4i with SDI is an MPEG-2/H.264 IPTV decoder with internal scaler. The unit is part of a family of products from Contemporary Research that can be used to form an end-to-end IPTV distribution system.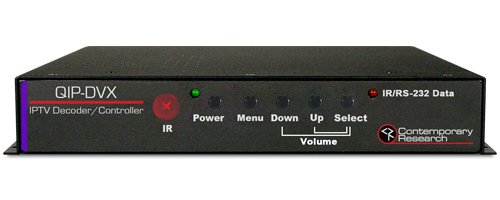 QIP-DVX IPTV Decoder/Controller
Contemporary Research's latest IPTV decoder with incorporated display control, the QIP-DVX IPTV Decoder/Controller offers display control functionality through RS-232 or IR.
Display Express Control Systems
Stadiums, arenas, casinos, entertainment venues, as well as civic, church, and corporate video systems have hundreds and sometimes even thousands of displays, TVs, and video projectors. Contemporary Research, makes it easy to create an integrated display control system.
Drawing on our popular and easy-to-use control solution over RF Coax, we developed an audio visual over internet protocol (AV over IP) display control solution that allows users to easily set up and deploy push-button display control from any web-enabled device.
ICC1-IRX Display Controller
The ICC1-IRX IR Display Controller delivers economical 1-way control for TV power, volume, and channels, receiving iCC-Net network commands over the same broadband coax that carries the CATV channels.
ICC2- ATSC 4S HDTV Tuner/Controller
The ICC2-ATSC 4S HDTV Tuner is an integrated HDTV Tuner/Controller that networks HD monitors and projectors in a Display Express TV control system.
Limited

IP-DXL Display Control Center
Contemporary Research's IP-DXL Display Control Center is the newest product for display control over Ethernet, sending control commands as UDP broadcast data packets to all QIP-D and QIP-DVX IPTV Decoder/Controllers on the network.
Revving Up the Customer Experience at Andretti
Andretti Karting and Games Orlando is revving up their digital experience for customers throughout the venue.
Read Full Story
More Questions?
Looking for something else? At Contemporary Research we are always ready to help.
Contact Us