Grace Under Pressure - Digital signage saves the rodeo
The San Antonio Rodeo has drawn tens of millions of visitors to its events since it started over seven decades ago in 1949. It attracts thousands of volunteers and national sponsors such as General Mills, AT&T, Ford, and Michelob and renowned music acts. It is a beloved fixture in the San Antonio community, with year-round events and community activities.
The February Stock Show and Rodeo is the marquee event. In late October it became clear there needed to be a venue change for 2021 show and related Covid restrictions. SA Rodeo leadership wanted to downscale from their usual home at the 18,000-seat ATT Center to the Freeman Coliseum next door, a smaller (and older) arena, where they could better manage health and safety. It was an ironic homecoming of sorts--the Rodeo had inaugurated the new Coliseum in 1950 when the Bexar County-owned facility opened.
The Stock Show and Rodeo is a complex event in any year. Beyond all the livestock events there is always a big musical act roster— including this year. The venue change and Covid upped the logistics manifold. But there was an even bigger wrinkle. The 72-yearold Freeman Coliseum did not have a video distribution infrastructure for digital signage, a key part of the revenue for the event.
Leadership at Freeman Coliseum understood that adding video distribution and signage was make-or-break for getting the Rodeo contract (because it was make-or break for the Rodeo's advertisers). The Coliseum team turned to their longtime rental and staging AV partner Texas AVL to design and install a venue-wide digital signage system in a matter of months, with an install window of just a couple of weeks.
"They said 'we need video content all over the property' and showed us the map where people were going to be walking," says Matthew Bryan CEO of Texas AVL. Bryan says that although Freeman leadership had not necessarily anticipated upgrading the venue with a digital signage system, they understood the potential for beyond the Rodeo's immediate need—a revenue potential that has now been realized many times over this year. The Coliseum had managed through Covid, in part by serving as a testing center. Leadership went ahead and committed the resources—both financial and in terms of IT—to a high-end system from Contemporary Research.
"This was a situation where the system absolutely had to work and absolutely could not fail," Bryan says of why he was comfortable with the manufacturer choice. We'd been specing some Contemporary Research systems into other installations. It is not the cheapest option, but it's reliability and performance made it essential in this case. Everything was riding on this for multiple revenue streams. If it fails, it's on us. Everyone is watching so it's hit a home run or go home."
Bryan says that despite the age of the venue, it had a good network and IT team—both were instrumental in smoothing the install. But the time pressure was intense and the system kept expanding. "Everybody was running, and they kept adding and adding," Bryan says, "it was 'did we say five? Now we need nine.'"
The final system comprised of Samsung screens, fourteen QIP-DVX IPTV decoder/ controllers; two QIP-HDMI 2 IPTV encoders; and one IP-DXL Display Control Center with Display Express Lite. The QIP-DVX IPTV decoder/controller offers display control functionality through RS-232 or IR. The QIPHDMI2 IPTV encoder is dual-program with two HDMI inputs. The IP-DXL Display Control Center with Display Express Lite provides display control over Ethernet, sending control commands as UDP broadcast data packets to all decoder/controllers on the network. The Display Control Center manages all display control at Freeman without third-party help. A server and CMS software supports content creation; Texas AVL provides that manage for each incoming show.
"They ended up liking the product very much," Bryan says. "We did hit a home run. It as very transformative for them, and they have used it for every event this year. But it was also transformative for us. We were able to parley it into a larger relationship with them and a larger contract. We are now the official AV company for the Freeman Coliseum and that carries weight. It had been a goal of ours when we came into San Antonio two years ago to get a high profile large venue. This gave us that opportunity though in an unexpected way. It was larger scale and a lot more pressure and our guys made it happen." Would it have happened without Covid? Like a lot of people, Bryan can say this: "Covid gave us the chance to find opportunity in the bad times."
Written by: Cynthia Wisehart
July 2021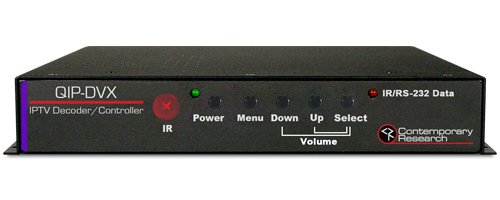 QIP-DVX IPTV Decoder/Controller
Contemporary Research's latest IPTV decoder with incorporated display control, the QIP-DVX IPTV Decoder/Controller offers display control functionality through RS-232 or IR.