More about IPTV Encoders
Encoding can cover a lot of ground and understanding can be eased with just a bit of explaining. An encoder accepts video sources and converts that video into a coded form. From there, some encoders can package the coded data to be carried over RF coaxial cable by an HD RF channel, a process called modulation. In addition, IPTV encoders can package the same coded data for transport over an Ethernet system, IPTV, or Video Over Ethernet.
About QIP-SDI 2 IPTV Encoder
The dual-program QIP-SDI 2, with two SDI inputs, sets a new standard for sports, motion and digital signage encoding.
Related Equipment & Software
IPTV Decoders
Unicast or multicast UDP and RTP IPTV compatible decoders that will accept MPEG2 or H.264 single program or multiple program transport streams.
Software Tools
Free software tools that allow users to maintain, monitor, and update many of their CR products.
Accessories
Contemporary Research offers a variety of product accessories to necessitate or enhance the functionality of AV products.
Full Description & Specifications
The dual-program QIP-SDI 2, with two SDI inputs, sets a new standard for sports, motion and digital signage encoding. Dual hardware scalers accept content up to 3G 1080p, shapes digital signage for edge-to-edge presentation, and compensates for non-broadcast and PAL refresh rates. Encoding as MPEG-2 or H.264, the QMOD-SDI 2 can output the content as two SPST Multicast or Unicast IPTV streams. Options include dual-language SAP audio, easy front-panel setup and alternate audio and NTSC video inputs. Web setup, monitoring, and firmware updates are available via USB and Ethernet ports. Two-across mounting offers up to four programs per rack space, with the ability to mix models to handle HDMI, SDI, Component, and NTSC video sources.
Two HD-SDI inputs, 3G Level A 1080p, 1080psf24 and 1080i/720p 59.94/60 Hz HD-SDI, and SD-SDI 480i widescreen/4:3 video; also accepts embedded 608/708 captioning and AES and AC-3 audio
Two Composite/CC video inputs for encoding, captioning, or EAS use
Two analog Stereo and two SPDIF coax audio inputs
Creates up to two high-definition SPST Unicast or IPTV streams, encoded as H.264 or MPEG-2
Converts stereo and PCM to stereo AC-3, AAC or MP12, passes through AC-3
Can create SAP dual-language audio for each program
Accepts 608/708 embedded captioning or Line 21 captioning from composite video inputs
Dual hardware scalers accept up to1080p 3G video, including 60/30 Hz, and PAL formats, and can deliver programs at a scaled or native resolution
Dual-program operation is standard
Sets up with front-panel buttons and easy to use menus, including inputs, encoding, channel, and RF options.
Onboard Web page for setup and monitoring, also accessible from front-panel USB port - an Ethernet connection is not required
Updates firmware via USB and Ethernet
Fan cooled, with adjustable speed
Saves power and rack space using efficient design
Includes compact switching power supply
Mounts in included RKU
Meets RoHS safety and California energy standards
---
Distribution:
AV over IP
---
Physical:
8.5" [216mm] wide x 1.73" [62mm] height (1RU) x 6.0" [153mm] deep
1.5 lbs [0.68kg]
+32° to 122° F operating temperature
Rack mounting for one or two units side-by-side in RKU, Universal Rack Mount Kit or optional (RK1, RK2EZ)
Fan cooled, with variable speed
---
Scaling:
Dual hardware scalers
Accepts 1080p - 480i resolutions, 29.97 - 60 Hz US and PAL refresh rates
Edge to edge presentation with zoom, shrink and X/Y axis positioning
Auto-sync or scales to fixed output resolution, 1080p scaled to 1080i
---
Encoding:
H.264 or MPEG-2 for HD, MP@ML for SD, 1080i, 720p, 576i, 480p, and 480i output resolution
MPEG-2 Video Encoding bitrate 10-20 Mbps, HD, 5-6 Mps 480i, or variable bitrate
H.264 Video Encoding bitrate 5-10 Mbps, HD, 2-3 Mps 480i, or variable bitrate
PCM or analog audio output as MPEG1 Layer2 or AAC
Pass-through AC-3 audio
---
Front Panel:
Select and directional buttons for menu setup
Menu LCD, Blue with 2 lines of 20 white characters each
---
Back Panel:
Power: 2.1mm coaxial jack (inside center conductor positive)

1.1A maximum, 11.5 to 13.5 VDC, 12 VDC typical

EAS: 3 GPI Pins for latching control, SW(NO) for closure, V+ 5-12 VDC, Ground
Ethernet: RJ-45 GigE Ethernet connector for IP control, updates, Unicast/Multicast IPTV and internal Web page
SDI Inputs: Two BNC Female

SD-SDI @ 270Mb/s, HD-SDI @ 1.485Gb/s, 3G SDI Level A @ 2.970Gb/s
Coax cable auto-equalizer for SD up to 460m, HD up to 230m (RG6)
Resolutions 1080p at 59.94Hz, 1080i/720p at 59.94/60Hz, or SD 480i at 29.97Hz
Accepts SDI embedded Stereo/AC-3/PCM 48KHz audio
Widescreen option for 480i

Composite Video/CC Inputs: RCA female NTSC/PAL (480i/566i), 29.97 Hz, supplies line 21 Captioning
Audio Inputs: Two coax SPDIF digital audio inputs

Analog L and R: 2 stereo mini jacks
Inputs assignable to video inputs
---
Includes:
5403-001, PS12-2 Power Supply
5008-025, Universal Rack Mount Kit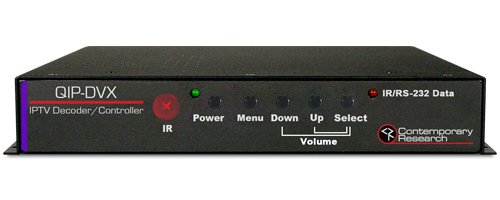 QIP-DVX IPTV Decoder/Controller
Contemporary Research's latest IPTV decoder with incorporated display control, the QIP-DVX IPTV Decoder/Controller offers display control functionality through RS-232 or IR.