AV over IP is a hot topic among AV Integrators when determining how to distribute video throughout a facility. However, there are challenges that must be overcome in order to make digital streaming possible. One of the biggest obstacles is the limited bandwidth available for distributing media. Due to this limitation, video must be compressed, and an encoder must be employed. In the first of a three-part series on encoders, decoders, and IP control, this blog will reveal what AV Integrators need to know about encoders, why to choose them, and the benefits they provide.
A video encoder allows streaming of video content, analog or digital, over IP networks. If anyone has multiple displays and needs to distribute video throughout a facility to computers, displays, or personal devices, encoders allow users to access HD video content simply. Why choose IPTV video distribution? It is convenient and easy to use in any application.
Contemporary Research (CR) offers IPTV AV integration solutions with four QIP Dual Program IPTV Encoders in its HD video origination product line. The QIP-SDI HDMI, QIP-SDI 2, QIP-HDMI 2 and the new QIP-YPB 2 feature dual-channel encoders that process two separate video streams in any combination of MPEG 2 or H.264. Per channel built-in hardware scalers solve multiple problems that customers experience when streaming over their network such as correcting refresh rates, poor signal strength from sources, and formatting or image shifting issues. Scalers allow users to adjust horizontal and vertical raster shifting and resizing. QIPs also offer extremely low latency, video resolution scaling between 480i and 1080p, common digital PC resolutions, and 575i standards, and accept two composite video inputs or video with line 608 closed captioning data. QIPs also accept embedded, digital SPDIF, or analog stereo audio and can encode AC3, MPEG 1 Layer 2, or AAC.
QIP IPTV encoders are fully convergent and able to output two independent single-program IPTV streams. Their highly efficient bitrates save bandwidth while distributing SD/HD video over IP Networks, providing high quality, anywhere, and on any IP device. In addition, CR releases new product features through firmware updates free of charge through CR Toolbox.
You can discover more about the benefits of CR's QIP encoders by visiting our AV over IP Solutions page.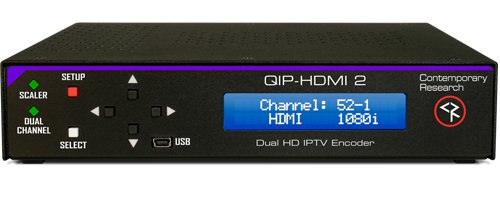 QIP-HDMI 2 IPTV Encoder
The dual-program QIP-HDMI 2, with two HDMI inputs, sets a new standard for sports, motion and digital signage encoding.