At CR, we're always searching for ways to give customers the technology solutions they want most. So, when developing a new, streamlined system for television control, we turned to client feedback and suggestions to design a head-end with a built in web page for control. The ICE-HE-DXL is a budget friendly, PC-free option for controlling sites that don't require the complete suite of Display Express features. The embedded control software in the ICE-HE-DXL, Display Express Lite (DX Lite) enables channel changing, volume control, power on and off, for up to 128 televisions and 32 channels, either individually or as a group. The ICE-HE-DXL, which replaces the ICE-HE Ethernet head-end controller, is smaller, only requiring 1/2 the rack width of the ICE-HE, translating into less required rack space.
Click here to demo Display Express Light
"We created the ICE-HE-DXL, which allows for users to access sites without a PC, at a low cost," says Roger Horton, the developer of the software. "The Lite version doesn't have all the features of Display Express, but for many, they aren't needed. The unit's LCD screen and controls allow easy access to system and network setup, as well as basic TV commands."
Customers can purchase the ICE-HE-DXL and utilize the included lite version of the Display Express software or they can choose to purchase the full version of the Display Express software that runs on a Windows PC or server. The full version of the Display Express software, which can accommodate 4,000+ televisions with unlimited channels, employs web pages for system setup, scheduling, and custom control pages. If control software is not needed, the ICE-HE-DXL can be used as a head-end to integrate with third party control systems such as AMX, Crestron, Q-SYS, RTI, to control TVs over IP, RS-232, and USB ports.
RF coax technology is often overlooked as a solution for media distribution, and there is a misconception that the technology is outdated -- this could not be further from the truth. RF has evolved over the last decade, and by leveraging this technology, CR is able to offer the ICE-HE-DXL at an economical price point that competing solutions can't come close to matching. Modern RF technology is a cost-effective way to distribute media to a variety of locations including churches, restaurants, healthcare facilities, arenas, corporations, and college campuses.
Rival products tend to be expensive because they require multiple devices that often prove unreliable, and offer features that are either not wanted or needed. When it comes to control capabilities, ICE-HE-DXL gives users exactly what they need in a slim, affordable package. Contemporary Research sells the ICE-HE-DXL individually or included in the Venue Vizion system package.
Venue Vizion is a complete television control and digital video distribution package which includes four QMOD HDTV Modulators, twenty ICC2-232 or ICC2-IR Controllers, one passive combiner, and additional accessories as needed.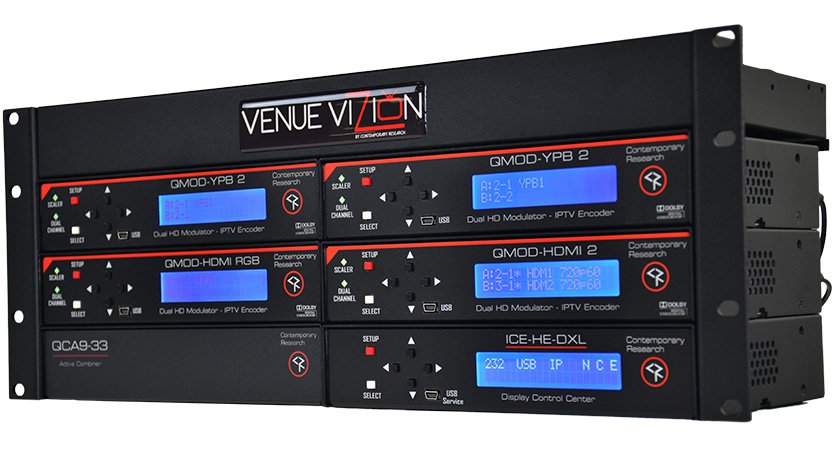 Venue Vizion
Venue Vizion is a cost-effective, easily expandable AV distribution solution that gives users control of each TV's channel, volume, and power.