The bar for entertainment has never been higher. Audiences across the world have nearly unlimited access to movies, music, and other forms of digital content, all directly from their phones. So how can a venue still draw and captivate live audiences night after night? The answer is simple.
Immersive digital experiences.
When customers find themselves at bars, restaurants, stadiums, or other locales, they want an audio-visual experience that is as seamless as it is compelling. This is no small task. Modern venues require a solution that is both simple and flexible.
Meet Venue Vizion.
Venue Vizion puts the power back in the hands of AV professionals and business owners. This solution can create multiple in-house channels of high definition content that are sure to engage viewers. Venue Vizion includes:
4 QMODs– Choice of HDMI 2, YPB 2 and HDMI RGB
20 Display Controllers- ICC1-232 or ICC1-IRX
1 Active Combiner Venue
1 DXL Ethernet Head-End Display Control Center
Additional Accessories per configuration
The best part about Venue Vizion? The ease with which you can install, adapt, and use the system.
Forget extensive training or fiddling around with complicated equipment. The best part about the system might just be its day-to-day operation. Venue Vizion was designed with the specific intent to make ease of use a priority. There is no more dealing with blatant infrared interference.
The Display Express Lite Control web page is easily accessible via smartphone, tablet, or PC. This allows users to quickly turn all TVs on and off, control volume, and change channels. TVs can be controlled individually, or in groups. No additional training or programming is required. This is the system you will love to work with.
Venue Vizion's RF Control Center hosts user friendly web pages for control and sends commands over the same RF coax as the digital channels. If you can navigate a webpage, you can work Venue Vizion. Our out-of-the box solution is modular, saleable, and most importantly: easy!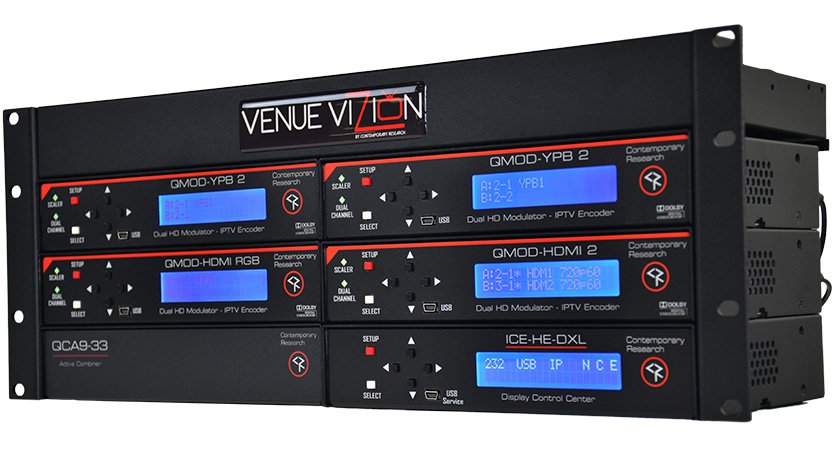 Venue Vizion
Venue Vizion is a cost-effective, easily expandable AV distribution solution that gives users control of each TV's channel, volume, and power.