The bar for entertainment has never been higher. Audiences across the world have nearly unlimited access to movies, music, and other forms of digital content, all directly from their phones. So how can a venue still draw and captivate live audiences night after night? The answer is simple. Immersive digital experiences. When customers find themselves at bars, restaurants, stadiums, or other locales, they want an audio-visual experience that is as seamless as it is compelling. This is no small task. Modern venues require a solution that is both simple and flexible. Meet Venue Vizion. Venue Vizion puts the power back in the hands of AV professionals and business owners. This solution can create multiple in-house channels of high definition content that are sure to engage viewers. Venue Vizion includes:
4 QMODs– Choice of HDMI 2, YPB 2 and HDMI RGB
20 Display Controllers- ICC1-232 or ICC1-IRX
1 Active Combiner Venue
1 DXL Ethernet Head-End Display Control Center
Additional Accessories per configuration
The best part about Venue Vizion? The ease with which you can install, adapt, and use the system. There is nothing worse that purchasing a product and realizing the installation is going to be a nightmare. At Contemporary Research, we put a lot of thought into how our users would initially set up their product. This forethought means Venue Vizion comes "rack ready" straight out of the box. Each product has already been assembled, pre-wired, and placed into a rack kit. The media distribution and TV control system provides the ability to create multiple in-house channels of high-definition content captured from satellite or cable receivers, PCs, media players, and other sources. Our preconfigured approach saves the end user both time and money. Simply power on, install the TV controllers, and then add content sources and scan for channels. That's it! Once the system is up and running, it is only one step to add the system to your network from the front panel menu and begin grouping TVs and existing channels. You can also trust that before we ship a single unit, we take the time to make sure each product has been thoroughly tested.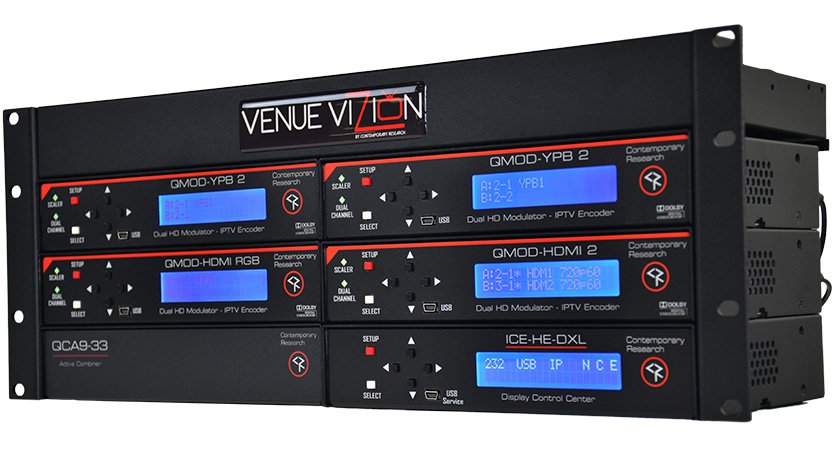 Venue Vizion
Venue Vizion is a cost-effective, easily expandable AV distribution solution that gives users control of each TV's channel, volume, and power.