Video and Control Systems
Venue Vizion
Nothing engages audiences like video content, so it's no wonder that bars, convention centers, medical offices, corporations, houses of worship, stadiums, and arenas are investing in high-definition video distribution. Integrating AV assets can be quite expensive -- but it doesn't have to be. By utilizing the RF coax or Category cable that already exists in most venues, Venue Vizion provides a simple and economical means of delivering HDTV distribution and control.
Venue Vizion provides the ability to create multiple in-house channels of high-definition content from satellite or cable receivers, PCs, media players and other sources.
Venue Vizion's Display Control Center hosts easy-to-use Web pages for control and sends commands over the same RF or IP networks as the digital channels.  With the included TV Controllers, multiple TVs and video walls can be commanded with the touch of a button
Easy to Install - The system is rack ready, preset, and operational out-of-the-box with only a few steps taken by the user.
Easy to Adapt - While the system is pre-configured for simplicity, it is not limited in application. Multiple models of QMOD Modulator-Encoders or QIP Encoders can be specified, and IR and/or RS-232 controllers may be used.  More components can be added at any time.
Easy to Use - With a PC, tablet, or smart phone, users can access the DX Lite Web page for one-click control.
Contemporary Research has been a leader in large-scale video distribution and control technology for over 25 years. Focused on AV Integration, Contemporary Research is dedicated to providing integrators video distribution solutions that save time and money. Venue Vizion provides a simplified solution for video distribution and control.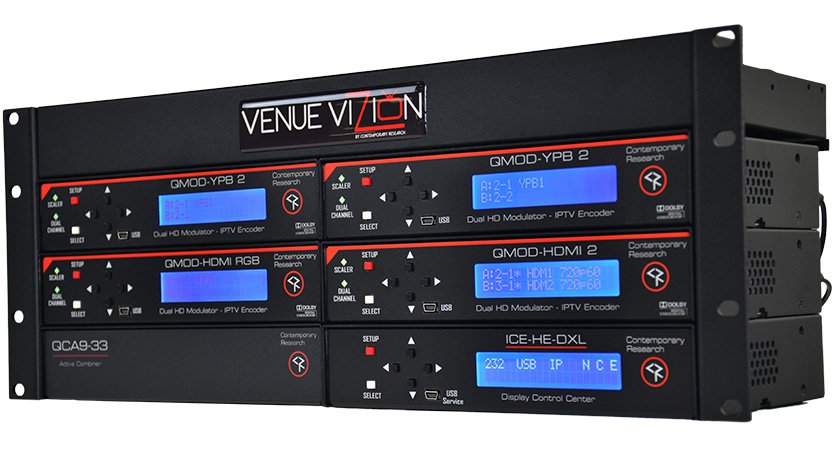 Venue Vizion
Venue Vizion is a cost-effective, easily expandable AV distribution solution that gives users control of each TV's channel, volume, and power.
Venue Vizion IPTV
Venue Vizion IPTV was modeled after CR's easy to use RF coax video distribution solution with display control, Venue Vizion. The AV over IP Video Distribution and Display Control solution is rack-ready, preset, and operational out-of-the-box
Oklahoma Establishments Serve TV as the Main Course
What do hardcore Oklahoma City football and basketball fans have in common? Two high profile sports celebrity-themed restaurant/bar venues with AV systems designed and installed by Pro Presenters of Norman, OK, and featuring solutions from Contemporary Research.
Read Full Story