Type: Accessories
Part Number: 5024-004
Size: 3.000 wide x 4.000 high x 0.500 deep
Weight: 0.250
Distribution:
Released: April 2018
Where to Buy
---
More about Accessories
Contemporary Research offers a variety of product accessories to necessitate or enhance the functionality of AV products.
About HD2-RC IR Remote
The HD2-RC IR Wireless Remote for Contemporary Research ATSC Tuners and QIP IPTV Decoders delivers simplified, convenient IR control.
Related Equipment & Software
AV Tuners
Integration-friendly RS-232 controllable HDTV tuners that can receive both digital and analog channels, in ATSC, clear QAM, and NTSC formats.
IPTV Decoders
Unicast or multicast UDP and RTP IPTV compatible decoders that will accept MPEG2 or H.264 single program or multiple program transport streams.
Full Description & Specifications
The HD2-RC IR Wireless Remote works CR ATSC Tuners and QIP IPTV Decoders to deliver simplified, convenient IR control. Designed for versatility and economy, the HD2-RC is available at a fraction of the cost of typical control system remotes. Everything's included—from the 4 alkaline AAA batteries to the full-featured panel design that handles product control and setup for ATSC tuners.
Weighing in at less than 5 ounces with batteries, the slim and trim enclosure makes one-handed operation a snap. However, the HD2-RC is no lightweight when it comes to power and performance. The high-output IR LED delivers reliable control within 35 feet, and high-frequency IR transmission minimizes interference from fluorescent lights and other sources.
Economical — available at a fraction of the cost of a typical control system IR remotes
Powerful — 35 foot range operation, high-frequency transmission reduces interference from other IR sources
Portable — lightweight, slimline remote is easy to hold, easy to operate with one hand
Versatile — pre-labeled function and Menu keys can handle a wide variety of TV and media control applications
Programmable — switchable for high- and low-frequency transmission
Reliable — settings held in non-volatile memory, never loses codes if batteries fail or are replaced
Simple — everything's included, from batteries to panel graphics and labeling
Tip: The remote can output high or low IR frequencies, which can help work around interference from fluorescent lights. Hold down Select and press 4 for low or 9 for high, then let both go. 
---
Distribution: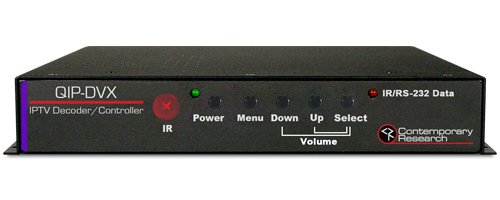 QIP-DVX IPTV Decoder/Controller
Contemporary Research's latest IPTV decoder with incorporated display control, the QIP-DVX IPTV Decoder/Controller offers display control functionality through RS-232 or IR.