Hybrid AV Distribution Solutions
What is a Hybrid AV Solution?
A hybrid AV distribution network utilizes both RF coaxial and category cabling. This is a preferred approach for venues that would like to leverage existing coax infrastructure while expanding the network to include IPTV capabilities.
Sites as diverse as entertainment venues, arenas, stadiums, casinos, corporate, houses of worship and civic buildings find hybrid AV networks to be a cost effective and efficient means of migration
System Design Considerations
System design depends on several factors, including:
Number of locations/screens to be served
Distances involved
Expansion plans
Any existing infrastructure that may be utilized
Advantages of Hybrid Video Distribution
Digital RF and IPTV
Digital RF and IPTV are closely related: each uses encoders to create digital MPEG programs. The key difference is that the MPEG programs are carried as a channel in RF and as an IP stream over Ethernet.
Utilizing RF and IP in video distribution offers these advantages:
Affordability – lower installation costs, as additions are only made where necessary instead of replacing an entire infrastructure
Highly scalable – RF networks can start small and expand to hundreds of channels and TVs at any time. While IP networks can be expanded quickly by adding switches
Flexibility – add IPTV infrastructure only where needed
Customization - Utilizes the best of each technology, allowing users to piece together what works for their infrastructure
Hybrid RF and IP Solutions
Contemporary Research delivers cost-effective, reliable, and scalable end-to-end RF and IPTV video distribution solutions with control designed for integration.
Download the Solutions Guide
HDTV Modulators and IPTV Encoders
Contemporary Research's HDTV Modulator-IPTV Encoders were designed and developed for IP/RF convergence in hybrid video distribution networks. Units create QAM digital cable channels or 8VSB air modulated channels as well as MPEG-TS IPTV streams. Contemporary Research IPTV encoders create MPEG-2 or H.264 IPTV streams from various video sources.
CR modulators and encoders include robust features such as built in scalers for edge-to-edge presentation, dual-language SAP audio, and Emergency Alert messaging capabilities.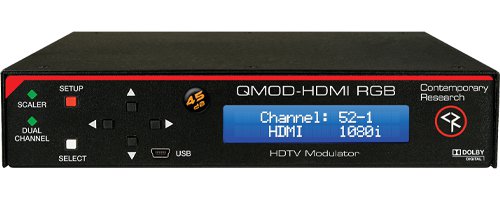 QMOD-HDMI RGB HDTV Modulator-IPTV Encoder
The dual-channel QMOD-HDMI RGB, with one HDMI and one RGBHV/Component input, sets a new standard for sports, motion and digital signage encoding.
QMOD-SDI HDMI HDTV Modulator-IPTV Encoder
The QMOD-SDI HDMI is a professional dual-channel frequency-agile RF Modulator/Encoder ideal for distributing live video from SDI and HDMI sources as well as digital signage content from media players or PCs.
QMOD-YPB 2 HDTV Modulator-IPTV Encoder
The QMOD-YPB 2 is a professional dual-channel frequency-agile RF Modulator / Encoder for distributing HD video content over CATV systems to an unlimited number of televisions or standalone HDTV Tuners.
HDTV Tuners, IPTV Decoders, and Display Controllers
CR's IPTV decoder/controllers provide integration-friendly IPTV decoding with built in display control. They are compatible with unicast or multicast UDP and RTP IPTV streams and will accept MPEG-2 or H.264 single program or multiple program transport streams.
The ATSC HDTV tuner series is available for commercial integration systems with projectors and professional displays without built-in TV tuners. These tuners can receive ATSC, NTSC, and clear QAM formats and are compatible with digital channels encoded in MPEG-2/H.264.
The HD video outputs can be set for native resolution or scaled up to 2160p. All tuner functions can be controlled with infrared and 2-way RS-232/IP Telnet. Tuner/controllers provide all the features of a tuner with the ability to pass control commands to the display devices for power on/off and source selection.
The ICC1 series of display controllers are integration friendly and offer 1-way control for power, volume, and channel selection. They are compatible with most brands of IR or RS-232 controlled TVs, displays, or projectors and with Contemporary Research's Display Express software or other custom programmed control systems.
232-ATSC 4K HDTV Tuner
The 232-ATSC 4K HDTV Tuner, the 5th-generation ATSC HDTV tuner from Contemporary Research, adds new capabilities to the industry-standard ATSC series.
ATSC-SDI 4i HDTV Tuner
The ATSC-SDI 4i HDTV Tuner, the 3rd-generation SDI tuner from Contemporary Research, adds new capabilities to the industry-standard ATSC series tuners with SDI.
ATSC-mini HDTV Tuner
The ATSC-mini is an HDTV Tuner designed for use with HD and UHD video displays and projectors in a distributed CATV system. Housed in a new, smaller low-profile enclosure, the unit with built in mounting wings can be attached flush to walls or displays.
New
Display Express Control Systems
Contemporary Research's Display Express software makes it easy to create an integrated control system for hundreds or even thousands of video display screens at sites as diverse schools, houses of worship, casinos, arenas, and stadiums.
The Contemporary Research audio/visual over internet protocol (AV over IP) display control solution allows users to easily set up and deploy push-button display control from any web-enabled device to manage more than 4,000 screens and up to 250 channels.
ICC1-IRX Display Controller
The ICC1-IRX IR Display Controller delivers economical 1-way control for TV power, volume, and channels, receiving iCC-Net network commands over the same broadband coax that carries the CATV channels.
ICC2- ATSC 4S HDTV Tuner/Controller
The ICC2-ATSC 4S HDTV Tuner is an integrated HDTV Tuner/Controller that networks HD monitors and projectors in a Display Express TV control system.
Limited

IP-DXL Display Control Center
Contemporary Research's IP-DXL Display Control Center is the newest product for display control over Ethernet, sending control commands as UDP broadcast data packets to all QIP-D and QIP-DVX IPTV Decoder/Controllers on the network.
An Epic AV Experience
When facilities want to inspire and engage audiences, they often turn to video with LED screens and interactive displays. However, this can be complex with many moving parts. Finding the right products and equipment that work together is quite the undertaking. The Epic––a 120,000-square-foot recreation center in Grand Prairie, TX––was facing such challenges.
Read Full Story
More Questions?
Looking for something else? At Contemporary Research we are always ready to help.
Contact us