Video Vices: Decoding AV over IP Video Distribution
Many changes occurred during the pandemic as businesses pivoted to adapt. One of the primary industry trends accelerated by the pandemic is the adoption of AV over IP solutions. General use cases for audiovisual displays and collaborative videoconferencing and content broadcasting were all pushed to embrace AV over IP as a standard, creating a singular environment for crafting investment and use strategies.
Here to give insights on this episode of Video Vices, a Contemporary Research podcast, is Paul Briggs AV Product Support Manager with Contemporary Research, and Craig Brown, President of Shoreline Communications. Brown's mission is to represent partner manufacturers in the Pro-AV community with a professional, ethical and personal sales approach built upon the foundation of offering outstanding service and support throughout the distribution channels and with the end-user in the effort to increase territory sales revenue.
End-users are probably happy with the transition to AV over IP, which is a quality and scalable infrastructure for AV needs, offering the delivery of high-definition video over data networks with superior quality for video and data. It's proving to be cost-effective, as well. So with this mass validation of AVoIP, we wanted to get granular on why AVoIP is proving so useful regardless of use case and offer strategies for deploying an AVoIP network at scale effectively.
"It is pretty easy to add AV over IP to existing networks," Briggs explained, "so somebody may already have the infrastructure in place that they can take advantage of without the cost and expense of new cabling."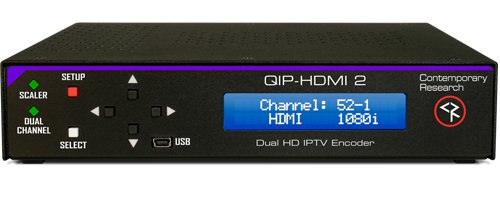 QIP-HDMI 2 IPTV Encoder
The dual-program QIP-HDMI 2, with two HDMI inputs, sets a new standard for sports, motion and digital signage encoding.