Corporate AV Solutions
Executives and business owners depend on great video systems to inform, educate, and entertain employees and clients.
The right video distribution solution allows for increased communication and entertainment across multiple on-campus locations. Whether you are outfitting a boardroom, breakroom, or corporate lobby, video increases engagement.
Video system design starts with room size, floor plan, and sight lines to calculate the number and sizes of screens. Then determine if consumer or pro grade, LED flat panel displays, LED direct view displays, or perhaps projectors are needed.
Finally, you must have reliable, high-quality video distribution and a way to manage it screen by screen.
Talk to a Corporate AV Specialist
Is AV over IP the Solution?
Video distribution in corporate facilities may incorporate programming from multiple sources, including satellite or cable boxes, computers, cameras, and digital signage players.
Streaming may be a good choice for some uses, depending on available bandwidth, number of endpoints, and network infrastructure. Inadequate bandwidth can result in jittery video and slow internet speeds for some key business functions sharing the same network as video.
AV over IP can be expanded quickly by adding switches without disrupting the existing network, and because it is modular, it localizes system failures so they can be found and fixed faster.
Contemporary Research IPTV video distribution solutions are cost-effective, reliable, and scalable end-to-end, with control designed for integration.
Video Distribution Using RF
Distributing HDTV and television control over RF coax delivers high quality video and digital media content efficiently. AV over RF is affordable, reliable, scalable, easy to install and maintain, and it assures video quality over long distances.
Contemporary Research RF video distribution solutions are cost-effective, reliable, and scalable end-to-end, with control designed for integration.
Hybrid Video Distribution Systems
A hybrid approach of RF and IP technologies often is the best video distribution and control solution for corporate applications. Contemporary Research hardware and software is unmatched for this type solution.
Display Control
Corporate locations often choose Contemporary Research's display control software, Display Express or Display Express Lite, to control power on and off, channel selection, and volume for hundreds of displays throughout the venue with only a few finger taps on any device with a web browser.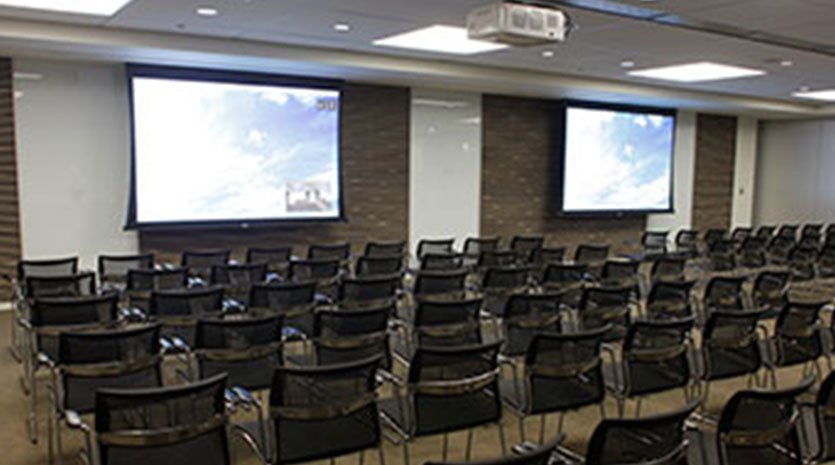 HDTV Modulator-IPTV Encoders
Contemporary Research HDTV Modulator-IPTV Encoders were designed and developed for IP/RF convergence. These units create QAM digital cable channels or 8VSB air modulated channels as well as MPEG-TS IPTV streams. Contemporary Research IPTV encoders create MPEG-2 or H.264 IPTV streams from various video sources.
CR modulators and encoders include feature built in scalers that ensure the whole image is displayed edge-to-edge. We also include dual-language SAP audio, and Emergency Alert messaging capabilities.
IPTV Decoder/Controllers
Contemporary Research IPTV Decoder/Controllers provide integration-friendly IPTV decoding. They are compatible with unicast or multicast UDP and RTP IPTV streams and will accept MPEG-2 or H.264 single program or multiple program transport streams.
AV Tuners
The ATSC HDTV Tuner Series is available for commercial integration systems with projectors and professional displays without built-in TV tuners.
Success Story - Home Depot HQ
The Home Depot's Atlanta Store Support Center knew its 5,000 employees were getting the word on human resource events and resources. The problem was that staffers didn't always remember, missing key opportunities.
Read Full Story