Broadcast Solutions
Broadcasters trust Contemporary Research to deliver video throughout their facility. Contemporary Research provides a seamless video distribution solution for broadcast and production studios to monitor local news feeds in executive offices or control rooms, houses or worship to broadcast sanctuary video to overflow rooms, and sports facilities delivering game footage to concourses and suites.
Talk to a Broadcast AV Specialist
The New Broadcast Environment
Video feeds coming from studio and remote cameras, as well as satellite and cable providers, and online sources require video distribution systems designed to accommodate such diverse inputs. Online feeds are becoming a bigger part of the broadcast environment for remote interviews between news staff and distant guests.
Contemporary Research hardware and software pulls together these diverse inputs to provide seamless broadcasts and full flexibility for staff members to get HD video from whatever source or channel they need.
Monitor Over-the-Air, Cable and Satellite Channels
Ensure the quality of your feed with Contemporary Research. Newsrooms monitor a wide range of channels, engineers check signal quality constantly, and meteorologists work with data-intensive radar and graphics packages.
Broadcasters choose CR's reliable series of ATSC Tuners to receive both analog and digital channels in ATSC, NTSC, or Clear QAM formats.
232-ATSC 4K HDTV Tuner
The 232-ATSC 4K HDTV Tuner, the 5th-generation ATSC HDTV tuner from Contemporary Research, adds new capabilities to the industry-standard ATSC series.
ATSC-SDI 4i HDTV Tuner
The ATSC-SDI 4i HDTV Tuner, the 3rd-generation SDI tuner from Contemporary Research, adds new capabilities to the industry-standard ATSC series tuners with SDI.
ATSC-mini HDTV Tuner
The ATSC-mini is an HDTV Tuner designed for use with HD and UHD video displays and projectors in a distributed CATV system. Housed in a new, smaller low-profile enclosure, the unit with built in mounting wings can be attached flush to walls or displays.
New
Deliver and Control Video In-House
To meet the challenge of delivering HD quality video throughout their in-house cable systems and IP networks, broadcasters prefer the QMOD series of HDTV Modulators-IPTV Encoders and QIP series IPTV Encoders. These products are available with various inputs and offer either simultaneous RF and multicast/unicast IPTV streaming or multicast/unicast IPTV streaming.
With CR's Display Controllers and Display Express control software it is easy for staff members to find and select the sources and channels they need, regardless of where they are working throughout the facility.
The high reliability of Contemporary Research equipment assures broadcast facility managers of 24/7 operation without the need to constantly monitor and reboot.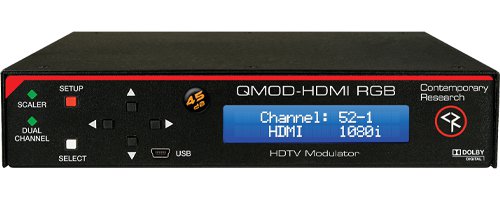 QMOD-HDMI RGB HDTV Modulator-IPTV Encoder
The dual-channel QMOD-HDMI RGB, with one HDMI and one RGBHV/Component input, sets a new standard for sports, motion and digital signage encoding.
QMOD-SDI HDMI HDTV Modulator-IPTV Encoder
The QMOD-SDI HDMI is a professional dual-channel frequency-agile RF Modulator/Encoder ideal for distributing live video from SDI and HDMI sources as well as digital signage content from media players or PCs.
QMOD-YPB 2 HDTV Modulator-IPTV Encoder
The QMOD-YPB 2 is a professional dual-channel frequency-agile RF Modulator / Encoder for distributing HD video content over CATV systems to an unlimited number of televisions or standalone HDTV Tuners.
Broadcast Solutions
With Contemporary Research, broadcast video systems operations and support staff can monitor in-house and inbound broadcast feeds from anywhere in their facilities.
CR has fully scalable broadcast solutions for any size facility and budget, designed for interoperability, simplicity, and reliability.
Talk to a Broadcast AV Specialist
City Clear Broadcasting Group
"I'm very happy with the way they (QMODs) produce. The learning curve wasn't too tough. I like to hook it up and walk away from it and not have to think about it until two years down the road. I know I don't need to reboot the (QMODs) every other day like some other stuff, and reliability is really high on my list. That's why I am a fan."
Read Full Story